SWAG and sponsored items information page
Submitted on 2015-01-13 12:21
Below is info and pictures of some of the amazing swag in this year's bag! If you want to take home some extra SWAG then go see the lovely volunteers at reception and you will be able to purchase some extras. The prices are below. We have only limited stock, so be quick!
The SWAG will be on sale after all people have completed registration on Wednesday morning.
Mi Power Bank 10400mAh
This USB charger has rave reviews, due it's form factor and the amount of power it is able to pack into it's small size. The Mi Power Bank contains LG Lithium-ion batteries that can endure 500+ recharge cycles and a rated capacity of 3.6V/10400mAh (TYP). See www.mi.com for more details.
LCA Price: $NZ 40.00
Usage
The micro-USB port is used to recharge the power bank. It is best to use a 2.0A or higher charger for this.
The standard USB port is used to charge your target device (for example, your phone).
There are four white lights beside the power button used to indicate the power bank's charge. Each light represents 25% of the total charge available. For example, if all four lights are lit then the powerbank is 75-100% full.
To see the current charge in the power bank press-and-release the power button.
Plugging your target device into the standard USB port starts charging your target device automatically.
To briefly suspend charging of your target device without unplugging it from the power bank, hold down the "power" button on the power bank. Releasing the button will resume charging the target device.
When you disconnect your target device from the standard USB port the power bank will shut itself down automatically after 2 minutes.
LCA Bag (rucksack)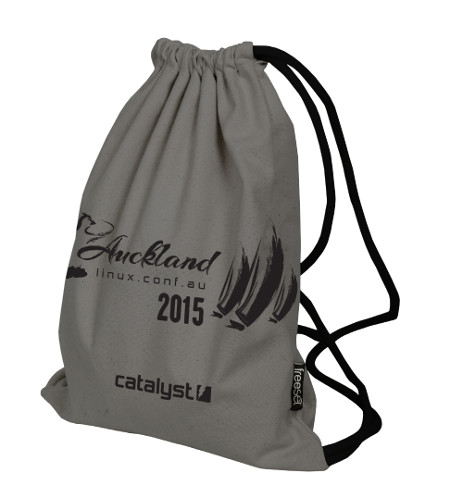 The LCA bag by Freeset Global is made under fair trade working conditions using sustainable or organic materials. Freeset Global are serious about bettering the lives of their producers and they also re-invest all profits back to the communities that create our products.
Price: $NZ 10.00
The Coffee Cup
The trendy coffee cups are made in New Zealand by CUPPACOFFEECUP. These recyclable coffee cups are made from food-grade polypropylene, which means they are hardy enough for you to reuse them many times, and when you do dispose of them they can be recycled into new consumer goods.
If wish a different design for your coffee cup, take it back to the registration desk and we can exchange it.
Price: $NZ 10.00
Stickers
We should probably mention the stickers and toiletries - they're free - please take them - we have hundreds of them. :-)